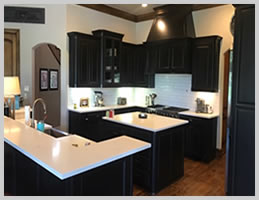 Kitchen Cabinets
The cabinets in your kitchen or bathroom are there not just for storing things but also for completing the room's overall look. Being one of the first things you'll see when you walk into a kitchen or bathroom, your cabinet must be visually appealing and blend well with the room's general appearance.
It's very important, then, to get cabinet services from those with more than a decade of experience and a high level of professionalism — Mario's Painting and Remodeling!
Call us now so we can go to your location to install a new cabinet for you or reface an existing one.
In the Spotlight:
We will provide a free quote with a kitchen design drawings included, within 72 hours or less. We are a preferred distributor of Eco wood, Forever mark and Wolf and will extend the full manufactures warranty as well as a warranty for the labor!
We provide painting, and kitchen and bathroom cabinets to the following areas in Princeton, Dallas-Fort Worth Metro: